Vain snails, a small-headed monster looking for love, and sub-atomic sheep captivate readers through quirky words, illuminating definitions, and Victor Stabin's spellbinding imagery. Daedal Doodle: The ABC Book for the Ages, provides a full A to Z intellectual experience as the reader discovers the true meaning of an Eohippus's Epizoon and what on earth a Ganoid Gubbins might be!
Inspired by reading ABC books to his daughter Skyler, Victor fused his love of words and his incessant doodling to create the improbable alliterations and illustrations of Daedal Doodle. He combed through 8,000 pages of dictionaries to find the alliterative couplets that underlie this wacky revue of improbable characters.
ABOUT THE BOOK
The dream-like images that inhabit "Daedal Doodle: The ABC Book for the Ages" consist not of "A is for Apple" or "B is for Ball" but "A is for Apperceptive Achatina" and "B is for Bifoliated Bonito".
One of my primary goals as an illustrator is to speak to as broad an audience as possible without pandering.  To that end, and prompted by reading ABC books to my children, my personal project Daedal Doodle is a game-changing ABC book that engages all ages.
The creation of Daedal Doodle was prompted by my daughter Skyler.  When she was two, I taught Skyler - considered a very high verbal - how to say, "My daddy is a megalomoniac."  Kids don't realize they are not supposed to know how to say advanced words.
As I started to use the dictionary for source material, I realized this project would only be fun for me if I challenged myself.  My goal was to make the ordinary - extraordinary by finding words that were real but that most people think are not.  I looked for words that sounded cool and obscure - this idea was so exciting to me; it eliminated the pain of not painting.
WHATS INCLUDED
Embossed Hard Cover 
Spot varnished dust jacket
76 Pages- 25% more content than first edition
Includes a Poster
10.75″ x 10.75″
Two gate fold-outs
Radio Stories
Daedal Doodle Curriculum Student Artwork
Stitch binding – 200 year warranty
Hidden Acorns
Brilliant Graphics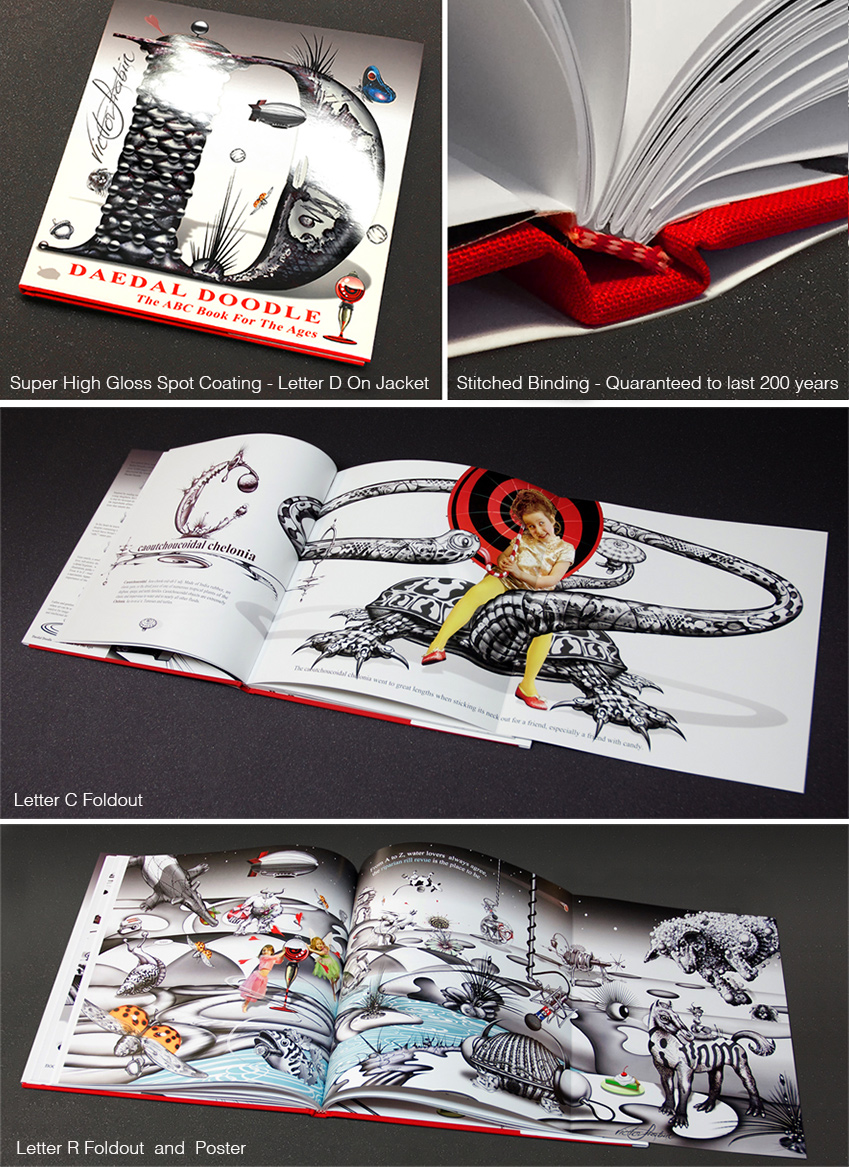 Daedal Doodle "The ABC Book for the Ages" is made of the highest quality materials & printing process, making it a great book to share and be enjoyed by generations to come.
The book idea was a simple assignment; look up words that lend themselves to narratives. I poured over 8,000 pages of different dictionaries on a treasure hunt for the coolest, quirkiest, most visually descriptive words and alliterative couplets I'd never heard that eventually became my wacky revue of improbable characters.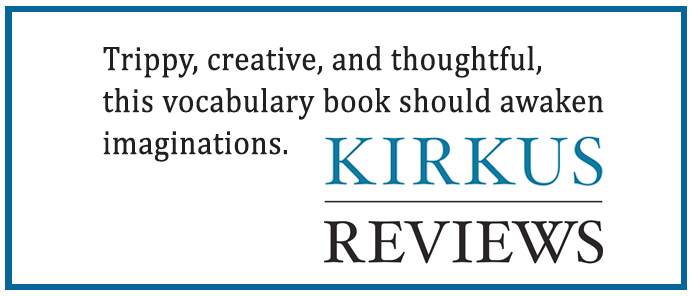 "Acorn Daddy." For a couple of weeks at age three, Skyler prefaced everything she said with "acorn." Initially, the first page of the book was "A is for Anti-Gravity Acorn." This led to the hidden acorns on each page (an arm wave to children everywhere who searched for the little mouse in Goodnight Moon).
I knew in my heart I was creating a work that, while complicated, would challenge the ABC status quo! I hoped to remove the boundaries between young and old, simple and sophisticated. The book is layered with exotic words and definitions, a custom-made illuminated typeface, plus details like the hidden acorns. I have created an unflagging lineup of curious illustrations, considered in the same school as Salvador Dali, M.C. Escher, and Dr. Suess.
Over the past couple of years, I've self-published two small editions of my book and a box of flashcards. The first run of 2,200 was distributed exclusively through my gallery in Jim Thorpe, PA. This latest, second printing, an "Artist's Edition" is printed for lovers of ultra high-quality books.
The Book that actually makes Milk & Cookies even Better!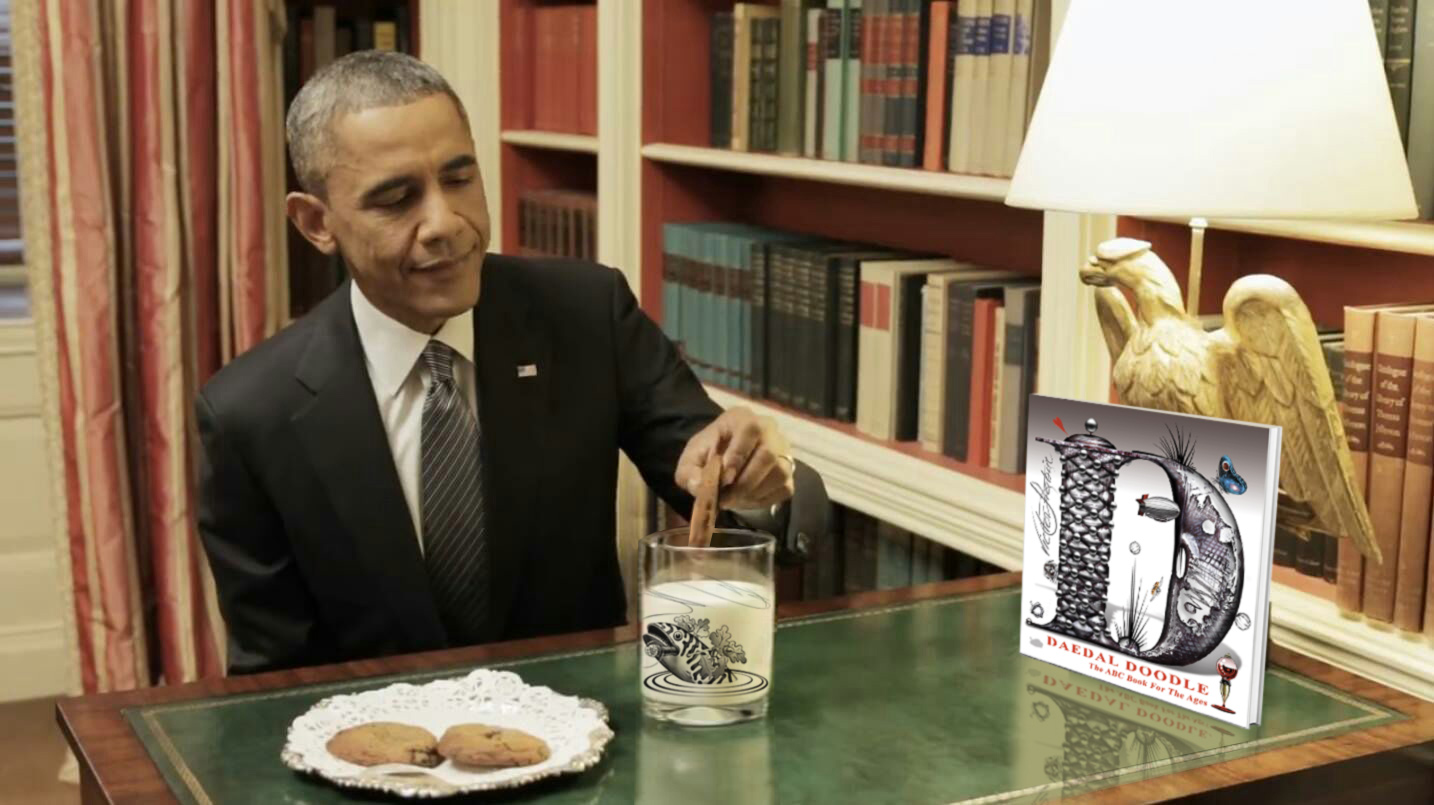 "Victor Stabin's Daedal Doodle, The ABC Book for the Ages makes a great milk and cookies read."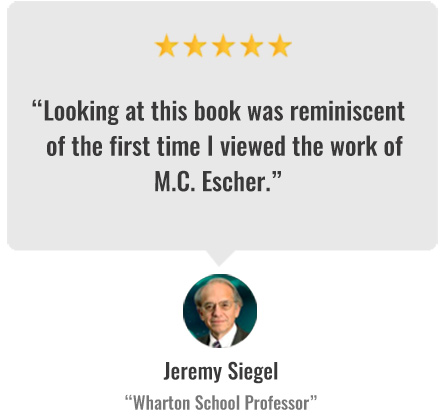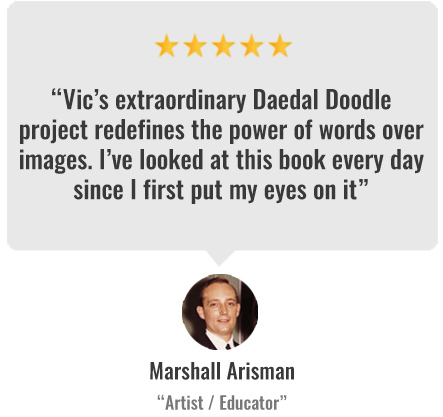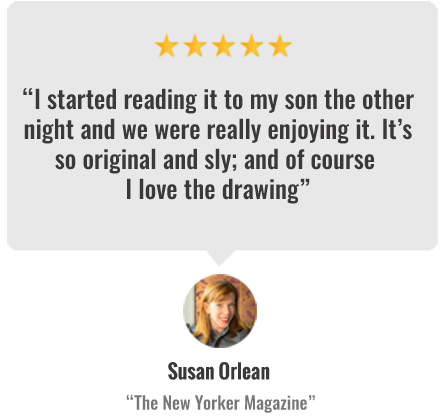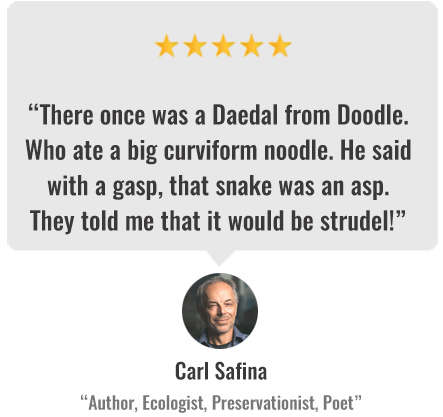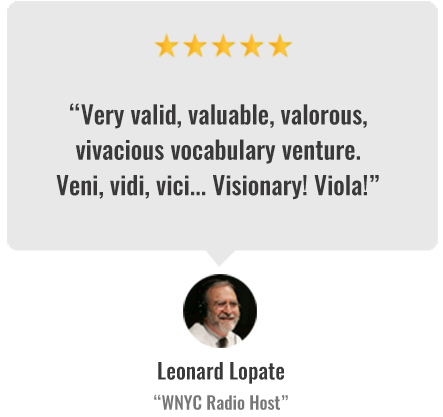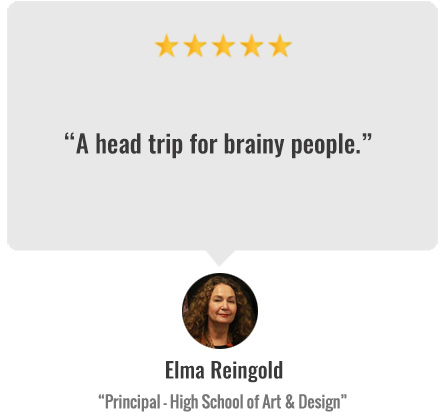 Daedal Doodle Books & Boxsets Make Excellent Gifts!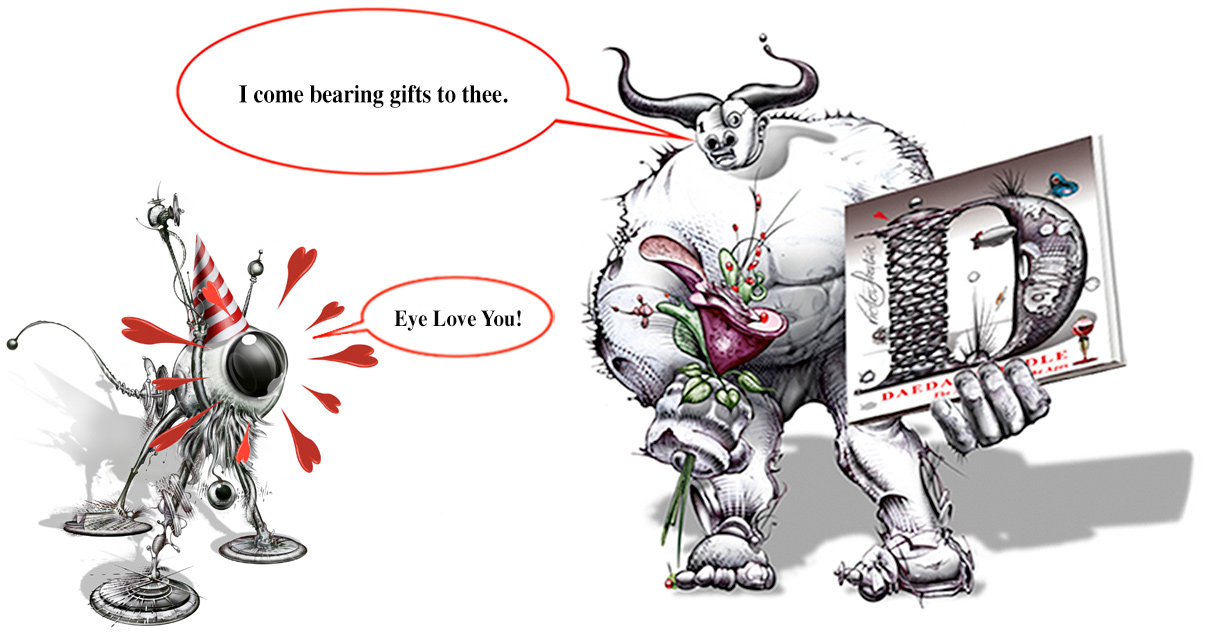 While working on Daedal Doodle, I was repeatedly asked, "What are these characters stories?" I was trained from birth to listen to talk radio. As a kid, I grew up listening to New York's WOR, WINS, and WNYC. As an adult I did not stray far–WNYC (which is my browser's home page) and of course all things NPR. I did not want to write a book of stories as much as I tried to get back to painting, but the repeated nagging question never stopped coming: "What are these characters stories?"
I began to write stories about these unusual characters, weaving my love of listening to National Public Radio into each short story and Radio Stories: NPR Unauthorized Cautionary Tales was born.
FLASHCARDS / GUIDE / BOX SET